Home

My Practice

Jessica Gallina MD
Jessica Gallina MD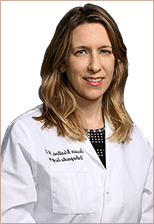 Jessica Gallina MD
Board Certified Orthopaedic Surgeon
Dance Medicine Specialist
Dr. Jessica Gallina MD, P.C. is a recognized leader in the orthopaedic treatment of foot and ankle disorders and is committed to orthopaedic excellence.
Dr. Gallina will devise a surgical or non-operative treatment plan for you and will arrange for any further studies, physical therapy, appliances, consultations or surgery that may be needed.
Dr. Jessica B. Gallina's credentials
Jessica Gallina MD is a board certified and fellowship-trained foot and ankle orthopaedic surgeon who specializes in the diagnosis and treatment of all foot and ankle injuries.
Dr. Gallina is a recognized leader in the orthopaedic treatment of foot and ankle disorders.
Fellowship:
Foot and Ankle Surgery
Roger Mann, MD
Oakland, CA
Foot and Ankle Surgery
Union Memorial Hospital
Department of Orthopaedics
Baltimore, MD
Residency:
Mount Sinai Hospital
Department of Orthopaedics
1 Gustave Levy Place
New York, NY 10029
Licensure / Certification:
Board Certified by the American Board of Orthopaedic Surgeons, August 2006
California State Medical Licensure
Maryland State Medical Licensure
New York State Medical Licensure
USMLE I, II, III passed
ACLS
Education:
Mount Sinai School of Medicine
1 Gustave Levy Place
New York, NY 10029
Degree: M.D.

Williams College
Williamstown, MA 01267
Degree: B.A.
Magna Cum Laude
Curriculum: Liberal Arts
College Major: Chemistry
Honors / Awards:
Alpha Omega Alpha Society
Magna Cum Laude – Williams College
Academic All American
1960 Scholar in Molecular Biology
Fisons Scholar/Athlete Asthma Scholarship
Commendation: National Merit Scholarship
Grants:
NIH Fellowship
Alpha Omega Alpha Research Fellowship
AO Research Grant
Publications
Biomechanical Comparison of the Achillion Tendon Repair System & the Krackow Locking Loop Technique
Donald Heitman, M.D., Kenneth NG, PhD, Keith Crivello, M.D., Jessica Gallina, M.D.
Foot & Ankle International Sept 2011, Vol 32 p 879-887.
---
A Biomechanical Comparison of Two Patterns of Screw Insertion
Sheldon Lichtblau, M.D., Jessica Gallina, M.D., Philip Nasser, M.S., Musyoka Munyoki, M.S., and Karl Jepsen. PhD
Bulletin of the NYU Hospital for Joint Disease. Vol 66(4)-2008.
---
Nuclear Proto-Oncogenes in Fracture Healing
Einhorn TA, Lucas TS, Berglas N, Gallina J, Atkinson G, Marjeska RJ. Trans. Orthop.
Res. Soc., 18:129, 1993.
---
Blood Management Experience: Relationship Between Autologous Donation and Transfusion In Orthopaedic Surgery
Sculco TP, Gallina J.
Jan; 22(1Suppl): S129-S134., Orthopaedics. 1999.
---
Osteoarthritis of the Ankle
Demetriades L, Strauss E, Gallina J.
Clin Orthop. 1998. Apr;349:28-42.
---
Geriatric Orthopaedic Problems: Foot and Ankle
Gallina J. Geriatric Medicine and Gerontology. Tallis BC, Fillit HM, eds.
Churchhill Livingstone, N.Y.: Brocklehurst, 2002.
---
Ankle Arthrodesis in Haemophilia
Gallina J, Gilbert MS.
The Haemophilic Joints, New Perspectives.
Rodriguez-Merchan EC. Ed.
Blackwell Publishing, 2003.
---
Essentials in Musculoskeletal Imaging, an AAOS publication. Section 9: Foot and Ankle Imaging.
Gallina J, Brage M.
Rosemont, IL. 2004.
---
Advanced Reconstruction Foot and Ankle, an AAOS publication. Painful Congenital Pes Planus in the Adult.
Gallina J, Sands A.
(AAOS Monograph Series). Flatfoot Chapter.
Rosemont, IL. 2004.
---